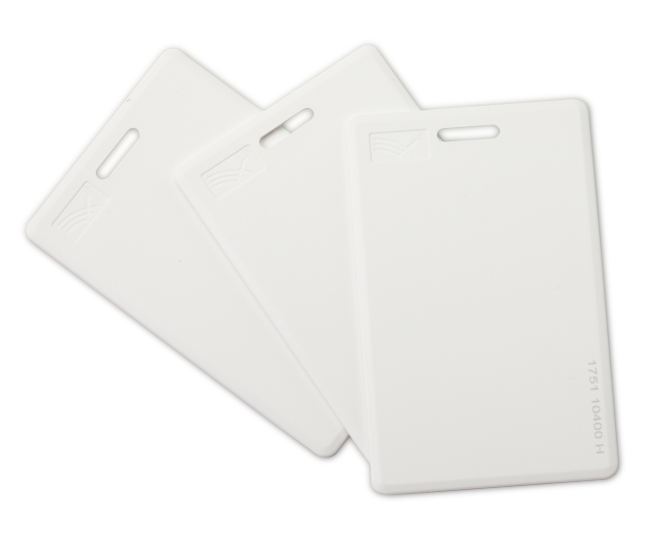 Access control cards & tags for use with proximity card readers.
Highpower Security Products offers a variety of proximity and access control cards and are available in badges, tags, and conversion stickers. All access control cards can be used with Highpower proximity readers as well as those from other manufacturers, including HID, AWID and Farpointe. Our Highpower Select series offers cost effective 125 KHz personalized proximity cards and tags that come in a variety of compatible formats—all with free custom logo laser imprinting. Able to be programed in any Wiegand format (including 26-bit Wiegand) our cards are available in mixed technologies with both proximity and mag-stripes available on the same access card. Each ID card comes with a one year warranty factory replacement against defects and can be reprogrammed if ordered incorrectly. Printable access control cards are suitable for printing on a card printer, or can be printed by Highpower to include bar codes for use with legacy access control systems.
All quality control and programming is done by Highpower Security Products with no minimum order quantity required.
HC & PSC-1 Proximity Cards – Standard, Pre-notched Proximity Card
At only 0.059 inches (1.49 mm) in width, the HC and PSC-1 cards provide maximum read range and are among the thinnest clamshell-style proximity cards. Highpower's HC proximity card features free laser engraving at an overall lower cost. The PSC-1 series cards are available in AWID and HID compatible formats.
HC – Highpower Select multi-format compatible (See compatibility list in sidebar)
PSC-1-H – HID compatible
PSC-1-A – AWID compatible
HF-B & PSK-3 Proximity Access Control Key FOB
Designed to be carried on a key ring, the HF-B and PSK-3 ID access control cards are among the smallest, narrowest key-chain tags available in the industry. The size and portability of these cards make them very convenient for everyday use.
The PSK-3 proximity card FOB is marked with a date code and ID number and includes a brass eyelet for carrying on a key ring and may be used with all P-Series proximity readers.
Our HF-B FOB is a great value, lower in cost and features free laser engraving.
HF-B and PSK-3 Proximity Card Models
HF-B – Highpower Select multi-format compatible (See compatibility list in sidebar)
PSK-3 – Farpointe/Highpower compatible
PSK-3-A – AWID compatible
PSK-3-H – HID compatible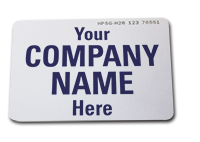 HG & PSM-2P – .032″ Thick ISO-style Printable Proximity Card
The printable HG and PSM-2P proximity cards feature a glossy surface and a nominal ISO-thickness of 0.031 inches (0.8 mm), making these access control cards ideal for use as corporate photo ID cards. The thin profile is well-suited for applications that require proximity and bar code or mag-stripe technologies.
HG cards are lasered in-house and optionally available with a standard 3 track ABA magnetic stripe.
HG and PSM-2P Proximity Card Models
HG – Highpower Select multi-format compatible (See compatibility list in sidebar)
PSM-2P-H: ISO-style HID compatible
PSM-2P-A: ISO-style AWID compatible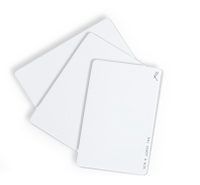 HX & PSI-4 Proximity Card – .046″ Thick Printable Proximity Card
The HX and PSI-4 Image Technology Proximity ID Card is more rugged than standard ISO style cards. This dye sublimation printable access control card is 0.046 inches (1.17 mm) in width and features a sleek, glossy finish.
Because it is slightly thicker than ISO style printable proximity cards, it offers a more affordable, durable structure with the same printing capabilities.
HX and PSI-4 Proximity Card Models
HX – Highpower Select multi-format compatible (See compatibility list in sidebar)
PSI-4 – Farpointe/Highpower compatible
PSI-4-A – AWID compatible
PSI-4-H – HID compatible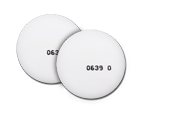 PDT-1 Proximity Access Control ID Sticker
The PDT-1 has a strong adhesive on one side designed to be attached to existing credentials including legacy ID cards, cell phones and wallets. The 1in. (25.4mm) diameter disk tag sticker works with all of our proximity reader models, offering extreme flexibility for users.
PDT-1 Proximity Access Control ID Models
PDT-1: Farpointe /Highpower Reader compatible
PSM-1-A: AWID Compatible
PSM-1-H: HID Compatible