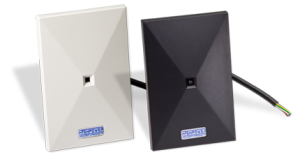 A single-gang box mountable card reader.
With its thin, sleek profile that compliments any building's decor, Highpower's P-500 proximity card reader is designed to be affixed to a standard single-gang electrical box.
Using a PSC-1 prox card, a P-500 proximity card reader will provide a read-range of up to five inches (127 mm). The prox reader includes a tri-state LED indicator (red, green, and amber) as well as an audible buzzer. Included with the P-500 are attractive white and black replaceable covers. This proximity reader can be ordered with compatibility with native proximity cards as well as cards from other manufacturers including AWID and HID. MaxSecure versions of this reader can be locked down to specific MaxSecure cards for added card control and security. The P-500 has a limited lifetime warranty.
The P-500 series proximity card reader is shipped with both black and off-white covers standard at no extra change.
P-500 Proximity Card Reader Features
Durable, sealed weather resistant construction
Low profile design measurements: 4.5″ W x 3.0″ H x 0.38″ D
Farpointe, AWID and HID compatible
Stylish black and off-white proximity card reader covers included.
Limited lifetime warranty
Proximity Card Reader Models
| Part Number | Description |
| --- | --- |
| P-500 | Standard Proximity Card Reader Model |
| P-500-H | HID Compatible Proximity Card Reader Model |
| P-500-A | AWID Compatible Proximity Card Reader Model |
| P-500-AH | HID & AWID Compatible Proximity Card Reader Model |