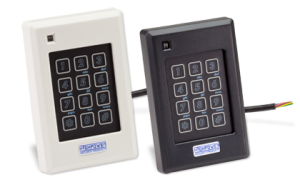 A proximity card reader with keypad.
Designed to be mounted directly to standard single-gang electrical box, Highpower's P-640 proximity card reader is ideal for applications requiring access credentials and/or a personal identification number (PIN) entry via the keypad.
P-640 proximity card readers deliver read-ranges of up to 6 inches (152 mm). Keypad data is transmitted via either an 8-Bit Burst or 26-Bit Wiegand data format. They keypad utilizes a durable, non-mechanical capacitive technology with integrated blue back lighting. The '5' key of the keypad has a raised tactile feature and is continuously illuminated at night to be pressed to wake up the illumination of the rest of the keys. This tactile feature and illumination is helpful to visually impaired individuals.
This proximity card reader includes a tri-state LED indicator (red, green, and amber) as well as an audible buzzer. Included with the P-640 proximity reader are white and black replaceable covers. This prox reader can be ordered with compatibility with native proximity cards as well as cards from other manufacturers including AWID and HID. MaxSecure versions of this proximity reader can be locked down to specific MaxSecure cards for added card control and security. The P-640 proximity card reader has a limited lifetime warranty.
P-640 Proximity Card Reader Features
Reads proximity cards and accepts keypad input
Durable, sealed weather resistant construction
Back light for night use
Measurements: 3″ W x 4.5″ H x .75″ D
Farpointe, HID and AWID compatible
Black and off-white proximity card reader covers included
Limited lifetime warranty
| Part Number | Description |
| --- | --- |
| P-640 | Standard Proximity Card Reader Model |
| P-640-H | HID Compatible Proximity Card Reader Model |
| P-640-A | AWID Compatible Proximity Card Reader Model |
| P-640-AH | HID & AWID Compatible Proximity Card Reader Model |