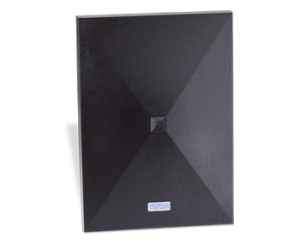 Extended range proximity card reader.
Delivering a longer read range, Highpower's P-710 proximity card readers are intended for applications that call for heightened levels of convenience, such as parking lots and employee entrances.
These proximity card reader units provide a longer reader range than many proximity reader models, and when using a PSC-1 card can read a range up to 14 inches [space] (356 mm). P-710 proximity card readers include a tri-state LED indicator (red, green, and amber) as well as an audible buzzer. Included with the P-710 proximity reader are attractive white and black replaceable covers. This prox reader can be ordered with compatibility with native proximity cards as well as cards from other manufacturers including HID. Please note the P-710 proximity card reader is not available with AWID compatibility. MaxSecure versions of this proximity reader can be locked down to specific MaxSecure cards for added card control and security. The P-710 proximity card reader has a limited lifetime warranty.
P-710 Proximity Card Reader
Durable, sealed weatherproof construction
Measures 8.5″ W x 6.0″ H x 1.5″ D
Farpointe and HID compatibility Measurements: 3″ W x 4.5″ H x .75″ D
Limited lifetime warranty