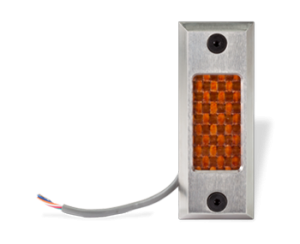 A bullet resistant & tamper resistant proximity card reader.
Highpower Security's P-400 proximity card reader is one of the most secure and vandal-proof proximity readers available in the market today. Units incorporate stainless steel and Fiber-Tex®, a UL-listed bullet-proof material, into the single piece design. These secure units are ideal for applications where crime and vandalism are a constant threat.
When using a PSC-1 card, P-400 proximity card readers provide a read range of up one inch (25 mm). P-400 prox readers include an audible buzzer standard. This reader can be ordered with compatibility with native proximity cards as well as cards from other manufacturers including AWID and HID. MaxSecure versions of this proximity card reader can be locked down to specific MaxSecure cards for added card control and security.
P-400 proximity card readers are available by special order.
P-400 Proximity Card Reader Features
Bullet resistant & tamper resistant
Suited for high-crime areas
Secure, durable construction
Measurements: 5.25″ W x 2.0″ H x 0.75″ D
Farpointe, HID and AWID proximity card compatible
Compatible models also read native P-Series cards
Limited lifetime warranty against defects
Proximity Card Reader Models
| Part Number | Description |
| --- | --- |
| P-400 | Standard Proximity Card Reader Model |
| P-400-H | HID Compatible Proximity Card Reader Model |
| P-400-A | AWID Compatible Proximity Card Reader Model |
| P-400-AH | HID & AWID Compatible Proximity Card Reader Model |