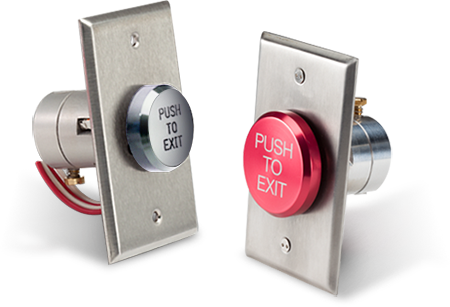 Single-gang box mountable egress release with pneumatic timer.
The Highpower Pushplate 120/140 PNZ series of heavy-duty controls is designed for rugged applications. Designed to improve on traditional mushroom-button type controls, the front plate of the Pushplate 120/140 cannot be burned or pried off. This series features a stainless steel back plate and anodized aluminum front plate that actuates a time-delayed SPDT microswitch. This switch stays closed after the front plate is released for a set amount of time. Since this time-delayed action is created with a pneumatic (air driven) switch, no external power is needed for delayed action. Unlike time-delayed switches from other manufacturers, durability and long life are built into this product since the travel of the front plate rather than the switch stop, limits the range of actuation. The PNZ version of the Pushplate 120/140 provides full actuation of the time-delayed switch, providing repeatable time delay intervals. The time delay is adjusted by turning a needle valve, and can be done using a screwdriver or finger grasp. The Pushplate 120/140 PNZ series are Made in U.S.A. and features a 1-Year manufacturer's warranty.
Our H120 PNZ pushplate features a 1 5/8″ (1.625″) button and our H140 PNZ model features a 2″ button, allowing customers to select the version that meets their needs and complies with local requirements.