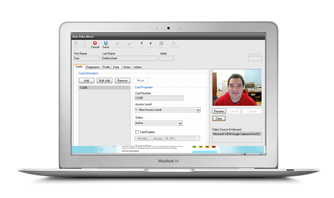 Access control software powered by SQL Server.
The Highpower Management System (HMS) is our SQL-based access control management software designed for high-performance and scalability. This access software is authored and maintained by our Connecticut-based engineering department. It is designed for deployment by IT departments and customers that require the reliability and manageability provided by Microsoft SQL Server, for safe and reliable door access control.
HMS Access Control Software Features
Multiple computers can manage the same access control system using client-server based technology
Virtually unlimited number of door controllers or readers and card holders
HMS Server runs as a Windows Service to log transactions, even when the client software is not running
Email alerts notify if a particular card or card holder has accessed the system
Hyper-syncing – Synchronize with multiple controllers simultaneously dramatically cutting down the time to update systems with many devices
Microsoft Excel spreadsheet data import
Data export to many formats, with redesigned Microsoft reporting
AES encrypted communications when using the HighpowerOne controller
Software Installation
Download HMS Enterprise V5.4
Download HMS Software Installation Manual
If you require assistance with the installation of HMS Enterprise, please call us at 203-634-3900. Using your high-speed Internet connection, Highpower Security Products can setup the system remotely for you. We will setup both purchased and trial systems at your request.
HMS Software Installation & Compatibility
The Highpower Management System Software has been tested to run on 64-bit Windows 10 & Windows Server 2010.
Access Control Software Version Information
HMS Client
Current build number is: 5.4.7236.21596 (October 14, 2019)
Download the Client Revision History

HMS Server
Current build number is: 5.4.7236.21302 (October 14, 2019).
Download the Server Revision History
HighpowerOne Firmware
Current firmware number is V2.6 (BUILD 114) (October 24, 2019) included in the software distribution.
8000 Controller Firmware
Current core firmware number is: V01.31 Apr 2015.
Current TCPIP firmware number is: 4.53.
Download the 8000 Firmware Revision History
Flash your 8000 controller with the latest core firmware.
STA Firmware
Current firmware number is V8.0 (Jan 11, 2008) for STA readers compatible with HMS.
The download distribution contains all of the latest patches. Call Highpower sales at 203-634-3900 for installation assistance.
Many Highpower Security products have been designed to function with our HMS access control software. These include: