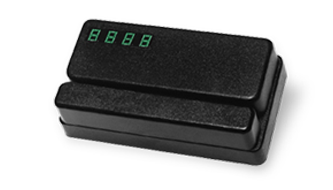 ID barcode reader interfaces to panel or PC.
The Smart Slot JX ID barcode readers are decoded barcode swipe readers designed to be interfaced to a PC or access control panel. The barcode reader can read practically any one dimensional barcode symbology from cards such as licenses, student id's and employee id's. The Smart Slot JX barcode readers have built in data conversion that allow you to mask out unwanted data in the data stream, allowing you to only report the part of data that the application requires. The JX barcode ID readers can be ordered in a wide variety of interfaces and output protocols. They are programmable, and can be equipped with a variety of options including LED indicators, alphanumeric displays, and a relay output for controlling electronic locks directly. TCP/IP networked versions of the JX barcode reader are compatible with Highpower HMS Management Software.
Programmable internal options
Can be ordered with both a visible light or infrared light sensor
Can be ordered to provide either 5VDC or 12VDC operation
"Beep" sounder indicates that a good card read has occurred
-40°C to +85°C operation for rugged environments
RS422 and RS485 versions are networkable for programming access
Access controls and security
Time & attendance
Food service access
Video rental
Retail
Membership cards
Wiegand (numeric and alphanumeric)
RS232
RS232 wedge
TTL ASCII
Inverted TTL ASCII
Magstripe (ABA) emulation
Wand emulation
RS422/485
PC wedge
VT320
DTMF
Weatherproofing
Side or rear wiring options
5VDC, 8-15VDC, or 15-30VDC operation
Visible or infrared optics
Low or high resolution
Choice of above listed Interfaces
8-character alphanumeric display
4-digit clock display
Indicator LEDs
Internal relay
Door position switch inputs for door status indication
#6 or 3mm mounting options
This ID barcode reader can be ordered from Highpower mounted on a double-gang electrical plate. Normally, this barcode reader unit has a proprietary mounting system.
To download the Data Sheet for this product, click here.