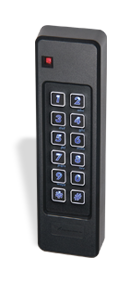 Dual-access security control solution.
With the P-620 series, Highpower provides a stylish dual-use reader for use on narrow style frames offering users access with a keycode and/or 125-kHz proximity readers and cards. Based on proven contactless digital radio frequency identification (RFID) technology, the P-620 works with a wide range of electronic access control systems perfectly suited for doors, parking garages, turnstiles and other areas where security is of utmost importance.
When using a proximity card, P-620 provides a read range of up to five inches. Additionally, the cards and tags are passive devices, which eliminate maintenance by not requiring a battery and can support several different proximity reader technologies. The device can be mullion-mounted on any flat surface including metal doors and window frames.
The P-620 proximity card reader & keypad is available by special order.
P-620 Proximity Card Reader Features
MAXSecure™ unique security
fleaPower™ energy-conservation technology
Pro-X™ read-range boosting technology
Limited lifetime warranty
Wiegand output interface
Proximity Card Reader Models
| Part Number | Description |
| --- | --- |
| P-620 | Pyramid Series Proximity® Cards and Tags |
| P-620-H | Pyramid + certain HID® 125-kHz Proximity protocols |
| P-620-A | Pyramid + certain AWID® 125-kHz Proximity protocols |
| P-620-AH | Pyramid + certain HID® 125-kHz Proximity protocols + certain AWID® 125-kHz Proximity protocols |