Rugged door opening control switches with custom engraving.
The most rugged and durable door control switches available, our Highpower Security push-button exit release pushplates are used as an exit device.
Our time-delayed versions (PNZ models) use our proprietary ultra-rugged pneumatic timer designs. All pneumatic Highpower pushplate products are Listed UL508 / CSA C22.2 No 14-10 with MET LABS, File # E113051. These high-precision push button timers are used to ensure compliance with building and safety requirements, ensuring the door remains open/unlocked for the correct amount of time.
Highpower Security pushplate exit release models come in a variety of sizes, shapes and color options, with engraved button messages that include: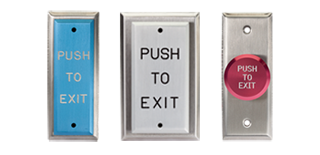 Push to exit
Push to open
Exit
Push to unlock
Blank (no text)
Custom engraving with your own message
| Product | Size | Standard Mounting | Button Shape | Button Colors | Pneumatic Timer |
| --- | --- | --- | --- | --- | --- |
| Pushplate 100 | 4.5″H x 2.75″W | Wall, Single-Gang Electrical Box | Rectangle | Blue, Red, Silver | No |
| Pushplate 100 PNZ | 4.5″H x 2.75″W | Wall, Single-Gang Electrical Box | Rectangle | Blue, Red, Silver | Yes |
| Pushplate 110 | 4.5″H x 1.75″W | Narrow-Style, for Mounting on Aluminum Door Frame | Rectangle | Blue, Red, Silver | No |
| Pushplate 110 PNZ | 4.5″H x 1.75″W | Narrow-Style, for Mounting on Aluminum Door Frame | Rectangle | Blue, Red, Silver | Yes |
| Pushplate 120/140 | 4.5″H x 2.75″W | Wall, Single-Gang Electrical Box | Round Button on Rectangle Plate | Blue, Red, Silver | No |
| Pushplate 120/140 PNZ | 4.5″H x 2.75″W | Wall, Single-Gang Electrical Box | Round Button on Rectangle Plate | Blue, Red, Silver | Yes |
| Pushplate 130 /150 | 4.5″H x 1.75″W | Narrow-Style, for Mounting on Aluminum Door Frame | Round Button on Rectangle Plate | Blue, Red, Silver | No |
| Pushplate 130/150 PNZ | 4.5″H x 1.75″W | Narrow-Style, for Mounting on Aluminum Door Frame | Round Button on Rectangle Plate | Blue, Red, Silver | Yes |
| Pushplate 200 | 4.5″H x 4.5″W | Double-Wide, Two-Gang Electrical Box | Square | Blue, Red, Silver | No |
| Pushplate 200 PNZ | 4.5″H x 2.5″W | Double-Wide, Two-Gang Electrical Box | Square | Blue, Red, Silver | Yes |