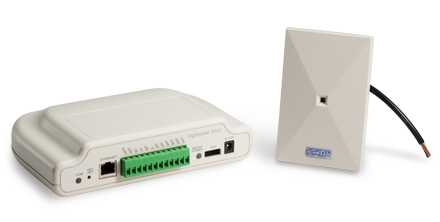 Narrow mullion mounted door opener release.
Highpower Security's 3500 door access control system offers an array of features, and is available as a stand-alone product or part of a kit.
Basic features of the 3500 door access control system include one Wiegand card reader input, on-board Ethernet adaptor and a relay for controlling a locking device. Each 3500 access control unit is designed to control one door and can be distributed at each door of a facility. The 3500 is a small device housed in a stylish, plastic enclosure that has mounting slots that allow it to be surface mounted to a wall using two screws.
Primary connections to the device are made at the bottom of the device by a removable terminal block. Secondary connections are made by connecting to either connectors or pin header. The removable terminal block has reader and relay connections and also provides two inputs, one for door position switch monitoring and a second for request to exit push buttons. The 3500's expansion port allows for connection to an LCD display (SPI clocked data port) and additional I/O for custom applications.
The 3500 door access control unit is powered by a 12VDC plug in wall transformer that connects to a barrel jack at the bottom of the unit. Two indication LEDs, one that shows data activity and one that works as a power/relay state indication light are also present at the bottom connection panel. There is a configuration jumper inside the device that can be set to route power from the plug-in transformer to the relay terminals. A reset switch can be depressed with the end of a paper clip, located at the bottom of the unit, that will reset the Ethernet adaptor.
The 3500 door access control system firmware decodes 26-bit Wiegand, 30 Bit Rio Systems, 35 Bit HID corporate 1000, RBH 50 Bit cards currently, but Highpower Security plans on adding custom format support features in to the 3500 in the future. We will modify firmware currently to accommodate your card format. Because the Ethernet adaptor in the device is manufactured by Lantronix, diagnostic and setup software from Lantronix is fully compatible, and can be used to set up the IP address and other network settings. The adaptor also has integrated telnet and web interfaces for setup. You can run the door access control system in either TCP/IP or UDP modes with this adaptor, although the Highpower HMS software required TCP/IP operation.
More on the 3500 Door Access Control Software
Back to 3500 Door Access Control System Overview
View All Door Control System Models